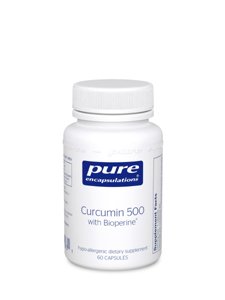 Curcumin 500 with Bioperine®
60 vcaps 
by Pure Encapsulations

Hypo-Allergenic Dietary Supplement

Commitment to Quality Program
Sourced and manufactured to avoid:†
-Artificial Additives
-GMOs
-Allergens
-Environmental Contaminants
-Added Excipients

Supplement Facts
Serving Size: 1 Capsule
Servings Per Container: 60

Amount per Serving:
Vitamin C (ascorbyl palmitate) 10 mg
turmeric (curcuma longa) 500 mg
- extract (root)
(standardized to contain 95% curcuminoids)
Bioperine® (piper nigrum) 5.3 mg
- extract (fruit)
(standardized to contain 95% piperine) 5 mg

Other Ingredients: hypo-allergenic plant fiber, vegetable capsule

Recommendations: As a dietary supplement, take 1–3 capsules daily, in divided doses, between meals.

This encapsulated product contains no hidden coatings, excipients, binders, fillers, shellacs, artificial colors or fragrance. Contains no dairy, wheat, yeast, gluten, corn, sugar, starch, soy, preservatives or hydrogenated oils.

Tamper Resistant: Use only if safety seal is intact.

STORE SEALED IN A COOL DRY AREA



Yin Chao Jin 90 tabs 
by Health Concerns

Chinese Therapeutic Actions:
Clear Wind Heat 

Ingredients:
Lonicera (Jin Yin Hua), Forsythia (Lian Qiao) Isatis Extract (Ban Lan Gen and Da Qing Ye), Arctium (Niu Bang Zi), Mentha (Bo He), Schizonpeta (Jing Jie), Soja (Dan Dou Chi), Platycodon (Jie Geng), Lophaterum (Dan Zhu Ye), Phragmites (Lu Gen), Licorice (Gan Cao)
Suggested Dosage: 3 pills, 2 times per day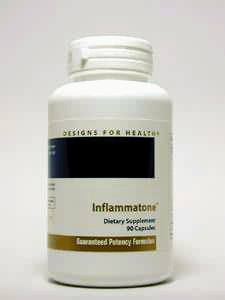 Inflammatone 120 caps 
by Designs For Health

(NEW FORMULA) 

Two capsules contains: 
n-zymes (proprietary blend) 222 mg 
Protease 6.0 (concentrate) 50,000 HUT 
Protease 4.5 40,000 HUT 
Trypsin 1:150 25mg 
Serrazimes 10,000 U 
Chymotrypsin 2 USP Units 
Turmeric (Curcuma longa) root 200 mg 
(standardized to contain 8% (16mg) curcumin) 
Boswellia (Boswellia serrata) (resin) 200 mg 
(standardized to contain 60% (120 mg) boswellic acid) 
Ginger (Zingiber officinale) (root) 200 mg 
(standardized to contain 5% (10mg) gingerols) 
Quercitin 75 mg 
Rutin 75 mg 
Rosemary (Rosmarinus officinalis) (aerial) 50 mg 
Resveratrol (Polygonum cuspidatum) 3 mg 
(root) (standardized to contain 20% (0.6 mg) resveratrol) 

Other ingredients: Microcrystalline cellulose, vegetable cellulose, water 

Suggestions: As a dietary supplement, take one capsule twice a day, between meals.

WARNING: Not recommended for use by pregnant or lactating women. 

Certificates of analysis available for raw materials.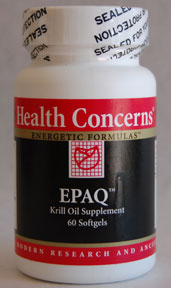 EPAQ Krill Oil 500 mg 60 gels 

by Health Concerns

Ingredients: 
100% Pure Neptune Krill Oil 500 mg 

Suggested use: 
Take two softgels for 30 days and one softgel daily thereafter with breakfast. 

Notice: People with seafood allergy, coagulopathy or taking anticoagulants or other medications should notify their health professionals prior to taking dietary supplements. This product is not intended for use by pregnant women.