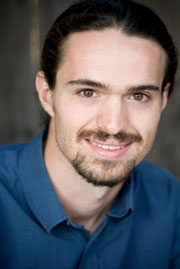 ALEX TUGGLE L.Ac.
M.S.T.C.M
office (530) 405-2530
mobile (510) 926-1902
info@goldenwellnesscenter.com
TESTIMONIALS
" Alex is extremely diligent and takes great care in really understanding his clients before prescribing an action plan. He is an expert in nutrition and supplementation who really cares about the well being of his clients. I will definitely continue to work with Alex. "

- Pete P., Chicago, IL
" Alex has been treating me for a couple of years now using hair mineral analysis, nutritional balancing, acupuncture and herbs. I have seen great results working with Alex! My allergies are almost 100% gone, and I feel the healthier now than I ever have as an adult. Alex is extremely knowledgeable and patient, and willing to explain everything that he is doing to treat me so I feel comfortable and empowered.

- Lorien HW, Palo Alto, CA
" Alex has done wonders since I have been receiving services from him this past year and is by far the best acupuncturist and primary health care provider I have ever come across!
" I originally came to Alex to perform a hair analysis test as I was constantly feeling exhausted and I had visited many doctors throughout the past few years where I didn't feel as though I was getting the answers I needed. When my hair analysis results came back I was shocked, Alex walked step by step through my results helping me to understand how my adrenals are functioning and the level of heavy metals in my system amongst various other findings - adrenal exhaustion and thyroid problems is what was causing the imbalance in my body, It was extremely insightful to learn how my body was currently functioning and ways in which I could get back to a healthy stage without taking drugs that had negative side effects. "

- Michaela W., San Francisco, CA
"Alex's combination of knowledge about Chinese medicine mixed with his knowledge of modern/ western medicine. He could explain concepts of complementary medicines in modern medical terms. I prefer to understand thoroughly what or why the treatments are working. And, the work was all very helpful. I ended up trying a hair analysis as well, which provided a lot of helpful information that unlocked some root causes that led to where I feel so much more balanced now and able to get back in balance on my own if things go array because I understand what's going on."

- Christie O., San Francisco, CA
"Alex combined deep tissue with acupressure and he really worked out a lot of the tension I had built up in my body. I truly consider this the best massage of my life, I left feeling not only relaxed and rejuvenated, but also as if I had worked with a physical therapist, acupuncturist, and masseuse all in one.
My final thoughts: if you are looking for an amazing massage that offers you a chance to reconnect with your body and work on tension release, this is the place for you. I have found no better and I don't think I could. Go!"
- JZ of Oakland, CA
"I couldn't have hoped for more rapid recovery. Alex is holistic, and his treatment works on many levels.
"My pain is reduced to a fraction of what it was, I'm much happier, and I have been unlocking parts of my life I didn't expect: my dreams are more rapidly resolving, the vast reduction of PTSD makes meditation and socializing so much more rewarding, I'm getting my life back."
"I have chronic back pain, and have had this for the past 4 years. Alex Tuggle has been one of the acupuncturists who have been able to achieve some pain relief for me.
"Alex approached my case unlike anyone else I had seen, and he used different acupuncture points. He is someone willing to try new things, take different approaches on the treatment, and uses enough, but not too much force.
"I highly recommend Alex Tuggle for anyone, especially if they have experienced or have pain."
- Sarryh H. from Los Angeles, CA
"Alex is an amazing acupuncturist. His treatments are gentle yet effective. I have seen many different practitioners including acupuncturists, chiropractors, rolfers, and physical therapists.
Alex's treatments consistently gave me lasting relief from chronic pain due to an old car accident. This was unique because often treatments have only a temporary (a few hours) effect and I do not feel that they address the underlying muscular and emotional issues that Alex was able to resolve. I only wish that he still was in Los Angeles so that I could keep seeing him! His treatments truly address mind, body and spirit."
- Ashley B. from Los Angeles, CA
"I strongly recommend the services of Alex Tuggle, nutritionist extraordinaire. He uses Analytical Research Labs for hair analysis and can recommend a very effective (if somewhat plodding) nutritional balancing program.
"He also answers any number of ridiculous questions through both email and phone. Simply getting a hair test and trying to make sense of it yourself is unlikely to get you anywhere, but with some practical guidance, you can really take a step toward feeling better."
I knew from the first session that Alex really cares about his patients and wants to see them reach their healthy state, I have never had any health care provider take the time that Alex did to answer all of my questions and be there via email or phone if I needed to follow up after our initial consultation. I have been incorporating a herbal daily regime and including acupuncture and I have experienced positive changes even after Alex told me it could take up to two years for my body to get back to a full healthy stage. Not only do I receive acupuncture during each visit, I also have a follow up discussion with Alex to express any concerns and my progress. Alex is very warming, welcoming and is very educated, he has given me various exercise techniques to help with my symptoms along with been a therapist by helping me open up about the problems I have faced in life and how to best handle them so they do not haunt my body long term."
- Michaela W. San Francisco, CA
" Alex was able to release the tension that I had within my body, he even found some spots that I did not know that I even had. "
- Jabez J. Oakland, CA
" Alex is an exceptional professional who I would not hesitate to recommend for nutritional balancing, lifestyle counseling, meditations and wellness endeavors. "
- Keerthy S. Sacramento, CA
" Alex is thoroughly knowledgeable in all aspects of Chinese medicine, from expert diagnosis to acupunture needle work. He has a very strong knowledge of nutrition and herbs. He is well versed on all the reputable providers of herbs. He also keeps a fresh stock of herbs for individualized treatments. I also had hair analysis with Alex and found the analysis and the prescribed herbs, minerals and vitamins to be very therapeutic to the healing from my illnesses. Alex also recommended exercises to improve my health and well being. I totally recommend him. "
- Tom M. Berkeley, CA