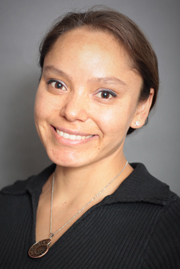 Alameda Massage Therapist
April Hairell CMT
Alameda Massage therapist April Hairell CMT has her practice in the beautiful Golden Wellness Center in Alameda where she specializes in:
Deep Tissue
Trigger Point Massage
Shiatsu
Acupressure
Prenatal Massage
Myofascial Release technique
Craniosacral therapy
Swedish Massage
April Hairell has a natural intuition and lets her hands and heart guide where your body needs the most attention. Although April specializes in Deep tissue therapeutic massage, her touch is light and gentle making her Alameda massage therapy sessions a deep healing and regenerating experience.
April graduated with honors from National Holistic Institute College of Massage Therapy Sept 06'. She received her certificate of massage therapy having successfully completed training in both western and eastern modalities of massage including prenatal, craniosacral, sports massage, and aroma therapy. Western modalities include swedish, trigger point, joint manipulation, and myofacial therapy. Eastern modalities include shiatsu, reflexology, acupressure, and thai massage. April has also received her California State certification in her commitment to continue her healing work.